FXVM VPS Plans Comparison
Lite

VPS

Basic

VPS

Advanced

VPS

Custom

VPS
Dedicated Server
RAM

768 MB

1 GB (1024 MB)

2 GB (2048 MB)

up to 6 GB

16 GB

CPU Cores

1

1

2

up to 4

4

Storage (SSD)

30 GB

32 GB

40 GB

up to 50 GB

120 GB

Windows Server (OS)

Dedicated IP Address

Automatic Backups

VPS Locations

MT4 Auto Startup

Optimized for MT4

Optimized for MT5

Optimized for NinjaTrader

Optimal MT4 Terminals

1-2

3-4

4-5

5-8

32 max

Setup Time

5 minutes

5 minutes

5 minutes

5 minutes

24 hours

Uptime Guarantee

100%

100%

100%

100%

100%

Any EA

Any Broker

Any Trading Platform

Monthly Price

$19.95
$29.95
$57.95
from $25.95
$274
Order Now »
Order Now »
Order Now »
Order Now »
Order Now »
Forex VPS hosting for MT4 and Expert Advisors
Move your trading platform to a remote server for enhanced performance, security, and ease-of-use.
Several Forex VPS Locations
Optimal connectivity for financial software cannot be achieved with all servers and ISPs. Our service is specifically designed to improve trading results, which is why we have chosen internationally renowned providers like Equinix, Global Switch, Level3, and Internap to host our global infrastructure and provide connectivity.
Forex VPS Plans
Forex VPS Optimized for Traders
It's critical your expert advisors and trading robots perform their tasks without a hiccup. That's why we never share your resources on our servers. This means you get exactly what you pay for! Furthermore, we make sure you're as close to your brokers server as possible, so you can execute your trades at lightning speeds.
Forex VPS Plans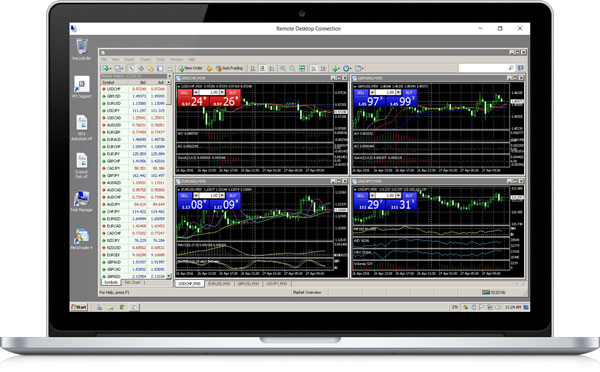 Equinix Datacenters
Colocated at different Equinix Datacenters around the world. Get Forex VPS hosted at Equinix NY2, NY4, LD4, LD5 and others.
MetaTrader 4 & more
We're experts with MetaTrader 4 (MT4), NinjaTrader, TradeStation and much more. If you need help, we're here for you.
Safe & secure
Securing your private information is critical to us. Our Forex VPS are highly secure and 100% private.
Stress-free & Easy to use
We offer you access via any smartphone, tablet or PC so you can log in and check on the status of your platform at any time.
Customer Support & Care
Our team of highly educated forex specialists understand your needs. We're here 24/7 to support you.
All Strategies accepted
We ensure that you always have dedicated VPS resources. You can run the most sophisticated EA's without any issues.
Low latency Forex VPS
Fast order execution means you have a better chance of getting your order filled in front of other traders who are competing for the same price. Fast execution means more pips and this is the reason traders around the world trust FXVM for their high frequency trading needs.
Broker Latency page